Every morning must begin with a spiritual awakening: Fogbuster, baby: Local roasters, organic, fare trade coffee - where it's at! www.piercebroscoffee.com


Since it's summer and work is slow, I've been cruising through the countries at a pretty good clip. I haven't made breakfast in any of the countries I've cooked in, so while researching Colombian cuisine, I discovered that breakfast is indeed an important part of the country's cultural traditions.
Changua
, an egg and milk "soup", beautifully seasoned with scallions and cilantro, is regularly eaten by families throughout the country and doesn't seem to be specific to regional locale, so that's what I made - plus I already had all the ingredients on hand!
Changua
is also known to help with a hangover, but I have never tested this theory.
Colombia (Bogata)(SA):
Located with part of its coast on the cool Pacific Ocean, part in the Caribbean, part in the mountains and the other part in the valleys all kinds of fruits, vegetables and seafood are readily available. Colombian cuisine is characterized by a an interesting combination of Peruvian, Brazilian and Spanish traditions, as well as Japanese and Arabic ways of cooking, and of course, their own Amerindian cultural heritage. In some areas, specialties like roasted ants or guinea pigs are common, while in other areas Colombians wouldn't touch those dishes.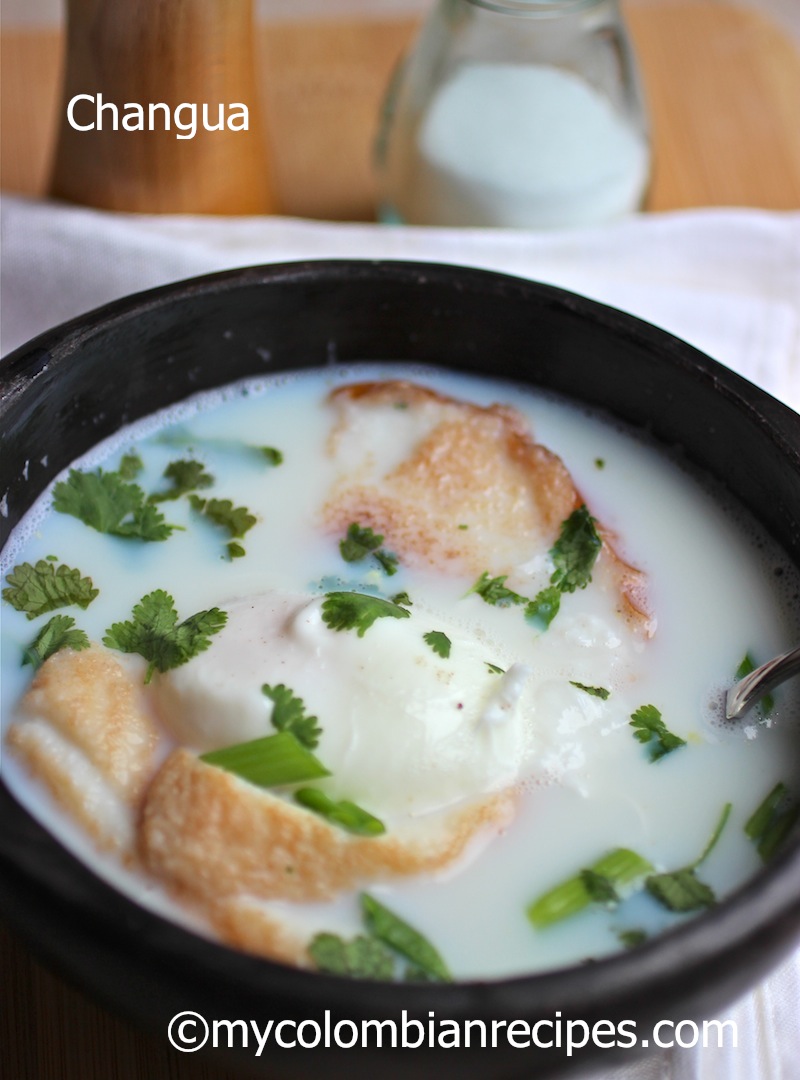 A typical breakfast in Colombia consists of fruit juice, coffee or hot chocolate, fruit, eggs and bread. Lunch which is served between 12 and 2 pm is the main meal of the day – at least in the countryside. A traditional main meal consists of a soup, a main dish, a drink and sometimes a dessert which is generally very sweet. The dinner is more like a snack. In the big cities the main meal often will be served around 7pm or 8pm.
http://www.southamerica.cl/Colombia/Food.htm
First I picked fresh herbs from my garden


Scallions and cilantro add a beautiful smell and taste to this traditional breakfast
Next bring milk and water to a boil, turn down to a simmer and drop in egg to poach
Dude's a human eating machine
Anything that combines scallions and cilantro works for me!








Changua (Colombian Egg and Milk Soup)

Ingredients

(4 servings)

4 cups milk

2 cups water

4 eggs

½ cup chopped fresh cilantro, plus more for serving

3 scallions chopped

Salt and pepper

Bread with butter to serve

Directions

1. Place the milk and water in a medium pot and bring to a boil. Add the onion, salt and pepper and cook for 3 minutes. Reduce the heat to medium and add the eggs without breaking them.

2. Let the eggs cook for 3 minutes and add the cilantro.

3. Serve warm with bread on the side and garnish with fresh cilantro.




Final Assessment: Awesomeness